Flatbed Die Cutting Machine, Dragon-330
ZONTEN Machinery independently researched and developed patented die-cutting machines. With the label market price moving towards the era of meager profit and higher and higher labor costs, the flat bed high speed die cutting machine was developed. This die cutter adopts a dancer paper feeding system with a maximum speed of 120m/min (400 times/min). Except for the intermittent movement of the paper feeding in the die-cutting part, the paper is fed at a constant speed.
The Dragon-330 flat bed high speed die cutting machine is also equipped with a hot stamping unit fully controlled by a servo driver, and the stamping unit is electrically heated. Servo-controlled intermittent foil tape rewinding and unwinding can ensure die-cutting speed of 120 m/min, and support 90-degree rapid rotation. The foil tape rewinding and unwinding unit adopts a differential air shaft with slipping friction, which can feed multiple foil tapes with different roll diameters on a single shaft at the same time, and can hold a maximum of 3000m foil tape. This greatly improves efficiency. More and more customers use flat bed high speed die cutting machine to replace the previous low speed die cutter.
Video Show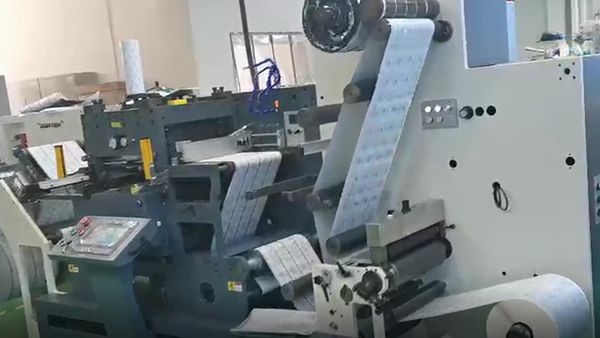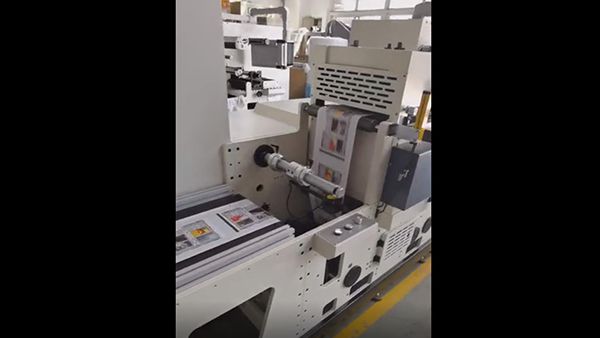 Specifications
| | |
| --- | --- |
| Model | Dragon -330 |
| Max. web width | 330mm |
| Max. unwinding diameter | 700mm |
| Max. rewinding diameter | 700mm |
| Registration | Sensor |
| Die cutting & hot stamping size | 320*350mm |
| Die cutting speed | 400rpm/min, 120m/minute |
| Air supply | 0.4-0.6pa |
| Overall dimensions | 5650x1510x1820mm |
| Machine weight | 8000kg |
Features
ZONTEN, as a leading label printing machine manufacturer in China, offers label printing and converting solutions in addition to a complete lineup of label production equipment. Our label printing machinery and label converting machines are widely used for the production of daily chemical labels, wine labels, alcohol labels, beauty and personal care labels, food labels, flexible packaging, etc. With over two decades of experience in the label printing industry, we know how important innovations and new technologies are for label & narrow web printing. Therefore, we design and produce our own label printing machines, and continuously develop new functions to further improve machine's efficiency. What's more, we offer training for your production staff and our highly qualified after-sales service team is always ready to serve you. We are continually innovating and improving in order to reach and maintain the highest quality of service available for each customer, which is realized by keeping in touch with our international customers to share the latest label news and techniques. We pride ourselves on our excellent level of customer service, as well as our high quality printing machinery, die cutter, slitting machines, label inspection machine, etc., so whatever you need from us please get in touch.