Semi Rotary Die Cutting Machine, ZMQ-370

The ZMQ-370 is a semi rotary die-cutting machine independently developed by ZONTEN. This semi rotary die-cutting machine is designed to solve the problems of in-mold labels in label printing companies that cannot be die-cut through the use of traditional equipment, which has obtained a number of patents. The semi rotary die cutter integrates the fully rotary die-cutting method of the in-mold label and the intermittent die-cutting method of self-adhesive. The two working modes can be interchanged at will, and the intermittent die-cutting can also be used for small batches of in-mold labels (IML-labels). It solves the confusion that the in-mold label project of the printing plant is difficult to start.
The semi rotary die cutting machine is equipped with 152Z magnetic roller as standard. In the intermittent state, the die-cutting size is 350*400mm and the speed is 50 m/min. Under the fully rotary state, the die-cutting size is 350*482.6mm and the speed is 100 m/min. In addition, it can also be equipped with film slitting or roll to sheet device.
Due to the popularity of digital printing, the ZMQ-370 semi rotary die cutting machine gradually replaced the traditional flat die cutting machine and was favored by customers.
Video Show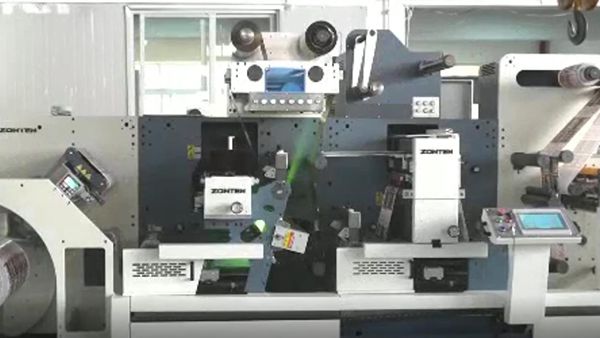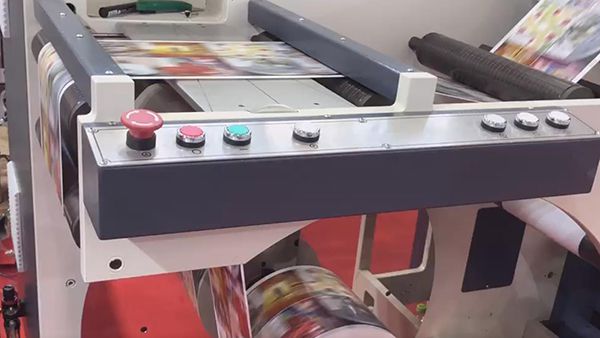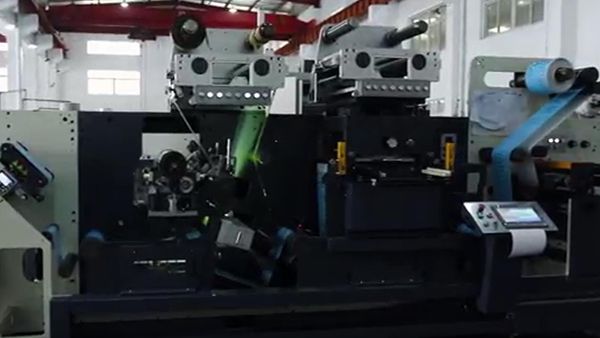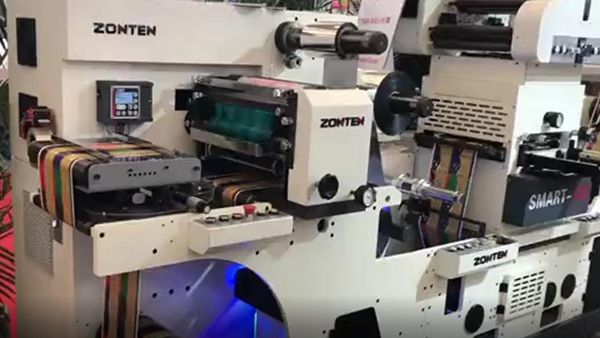 Specifications
| | |
| --- | --- |
| Model | ZMQ-370 |
| Max. effective paper width | 370mm |
| Max unwinding diameter | 700mm |
| Max rewinding diameter | 700mm |
| Registration | Sensor |
| Semi rotary flexo area | 450mmx350mm |
| Magnetic cylinder size | 152 Z |
| Die cutting speed | 300rpm/min |
| Air supply | 0.4-0.6pa |
| Overall dimensions | 5650x1510x1820mm |
Features
Unwinding with closed-loop tension control, BST web guiding system with ultrasonic edge guide sensor
Die cutting station with independent Panasonic servo driver control, magnetic cylinder size in 152 Z, can run in semi rotary and fully rotary states.
Slitting device with two rewinder shaft
Combining semi rotary flexo unit can achieve flexo UV varnish + semi rotary die cutting + slitting at one time.
Independent electrical box control with Trio PLC, moveable touch screen control.
Semi rotary die cutting machine supports remote control. Therefore, we can easily solve any software issues with laptop.
Details of Semi Rotary Die Cutting Machine
ZONTEN, as a leading label printing machine manufacturer in China, offers label printing and converting solutions in addition to a complete lineup of label production equipment. Our label printing machinery and label converting machines are widely used for the production of daily chemical labels, wine labels, alcohol labels, beauty and personal care labels, food labels, flexible packaging, etc. With over two decades of experience in the label printing industry, we know how important innovations and new technologies are for label & narrow web printing. Therefore, we design and produce our own label printing machines, and continuously develop new functions to further improve machine's efficiency. What's more, we offer training for your production staff and our highly qualified after-sales service team is always ready to serve you. We are continually innovating and improving in order to reach and maintain the highest quality of service available for each customer, which is realized by keeping in touch with our international customers to share the latest label news and techniques. We pride ourselves on our excellent level of customer service, as well as our high quality printing machinery, die cutter, slitting machines, label inspection machine, etc., so whatever you need from us please get in touch.