PS Plate Intermittent Offset Label Printing Machine, ZTJ-330

ZTJ-330 intermittent offset press is the most advanced adhesive sticker label printing machine, which is designed based on the classic structure of Heidelberg SM52. The three-point suspension mechanism makes this printing equipment more stable and practical.
The offset printing machine is suitable for the printing of coated paper stickers, aluminum foil paper stickers, thermal paper, as well as PE, PP and PVC stickers. The resolution of this offset printing press is over 200LPI.
Our offset label printing machine is advantageous to short-run printing job because no need to cost on printing cylinder any more. Meanwhile, the ink transfer from offset label printing machine is achieved by 23 pcs inking rollers. The ink quantity can be automatically controlled by the computer. The customer also saves cost from anilox roller if compared with flexo printing machine.
Video Show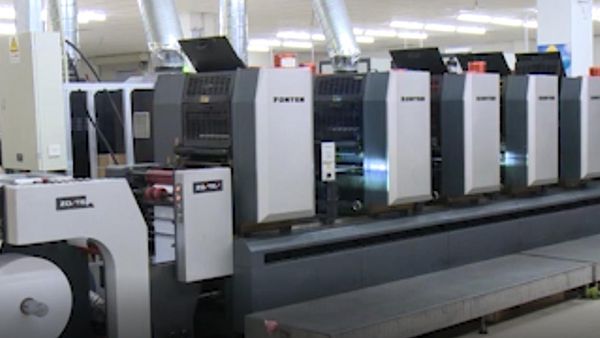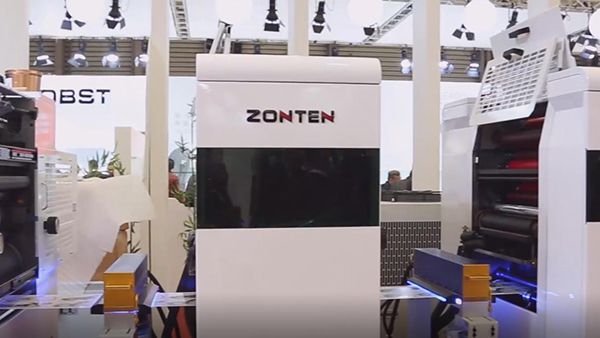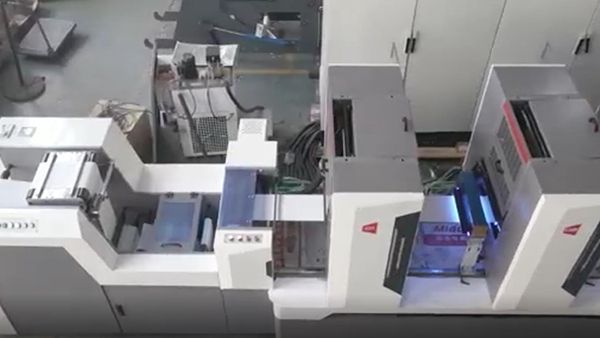 Specifications
Max. Width of the Material
330mm
Max. Printing Width
320mm
Printing Length Range
100-320mm
Thickness of the Printed Material
0.1-0.3mm
Machine Speed
50-180rpm (50m/min)
Max. Diameter of Unwinding
700mm
Max. Diameter of Winding
700mm
Air Pressure
7kg/cm2
Host Power
30kw/6 colors (Not including the UV system)
Power of the UV System
4.8kw
Power Supply
Three phase 380V
Overall Dimensions
9500×1700×1600mm
Weight
about 13 ton/6 colors
Note:
1. Machine speed varies with the change of the printing length.
2. The appearance of the machine and the production process are subject to change without notice.
Combining German Heidelberg offset printing technology and our patent technology, the PS Plate Intermittent Offset Label Printing Machine, ZTJ-330 adopts Japanese Panasonic servo motor and is controlled by DOS system and high-performance CPU. The self-developed vacuum reflux uncoiling technology solves the problem of unstable tension of traditional printers when printing and effectively prevents the depletion caused by fiction between printing materials and other components. This equipment is easy to operate. Users can control it through the mobile touch console to make it adjust by itself, like automatic pressure adjustment, ink roller cleaning, etc. Users can also add some devices, such as cold foil stamping system, CCD camera, etc., to make this equipment multifunction. Our product can run 200 revolutions per minute and can print on materials with the width of 330mm and the thickness of 0.1-0.3mm, which has a strong printing capacity.
Features
Optional Devices
Automatic Ink Roller Cleaning System
Remote Ink Fountain Control System
Cold Foil Stamping System

Round Screen Printing Color
CCD Camera
Digital Printing Unit

UV Flexographic Printing Unit
The flexo printing with anilox is particularly suitable for UV varnishing and for making a white area on transparent materials.
Letterpress Printing Unit
Roller Die Cutting Device
The caring blade is attached on the magnetic drum and any graphic can be die cut.
Laminating Device
In high-speed intermittent printing, an intermittent laminating device can be installed before the roller die cutting device.
Our company is a professional offset printing machine manufacturer and supplier in China. We offer a vast range of products, including letterpress label printing machine, die cutting machine of printing machinery, slitting machine, and more. Since the first ZTJ-330 offset adhesive sticker and label printing machine was launched to the market in 2010, we have received unanimous praise from customers at home and abroad. At present, our company has branches in Guangzhou/Shanghai/Beijing/Jiangsu/Chongqing, and established offices in Southeast Asia/Korea/South America and Europe to provide customers with 24-hour online sales and after-sales service.
ZONTEN, as a leading label printing machine manufacturer in China, offers label printing and converting solutions in addition to a complete lineup of label production equipment. Our label printing machinery and label converting machines are widely used for the production of daily chemical labels, wine labels, alcohol labels, beauty and personal care labels, food labels, flexible packaging, etc. With over two decades of experience in the label printing industry, we know how important innovations and new technologies are for label & narrow web printing. Therefore, we design and produce our own label printing machines, and continuously develop new functions to further improve machine's efficiency. What's more, we offer training for your production staff and our highly qualified after-sales service team is always ready to serve you. We are continually innovating and improving in order to reach and maintain the highest quality of service available for each customer, which is realized by keeping in touch with our international customers to share the latest label news and techniques. We pride ourselves on our excellent level of customer service, as well as our high quality printing machinery, die cutter, slitting machines, label inspection machine, etc., so whatever you need from us please get in touch.