8-Color Intermittent Letterpress High Speed Label Printing Machine, SUPER-320

The 8-color intermittent letterpress high speed label printing machine applies to the printing of coated paper stickers, aluminum foil paper stickers, thermal paper, as well as PE, PVC and PP stickers. It adopts servo control system and the servo motor that drives each printing unit can be precisely controlled, thus achieving optimal control of the whole equipment. Due to the adoption of reciprocating paper feeding method, the printing can be completed by just one plate cylinder. The maximum printing speed reaches 250r/min and the resolution is 175LPI or more.
Super-320 adhesive label printing machine is the first letterpress printing equipment controlled by the horizontal servo driver in China since 2005. As the super-star product of Zonten, more than 700 units have been installed all over the world.
The specially designed adhesive label printing machine developed by our company broke the monopoly of Japanese and Taiwanese letterpress printing machines on the Chinese market, and provided fresh blood for the independent brand of domestic label printing machines.
Video Show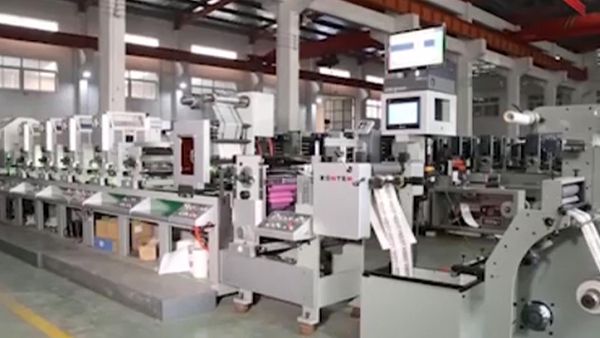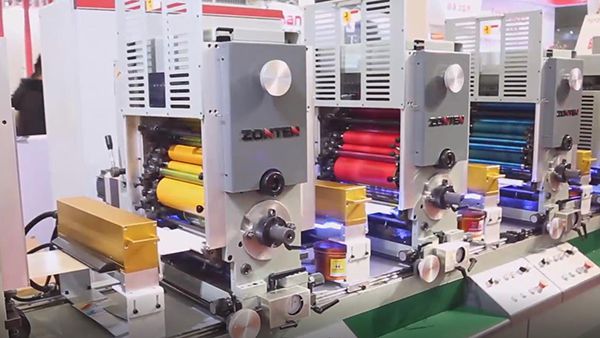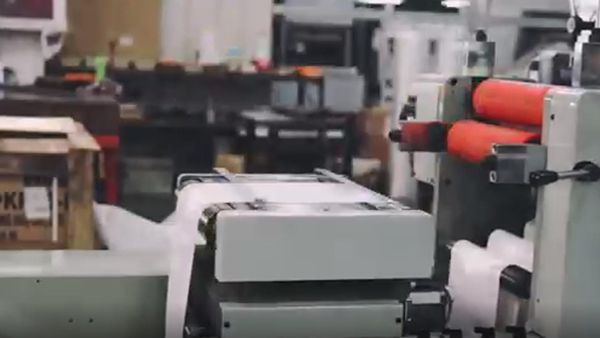 Specifications
Max. Width of the Material
310mm
Max. Printing Width
290mm
Printing Length Range
50-260mm
Printing Color
2-8 colors
Thickness of the Printed Material
0.1-0.3mm
Machine Speed
30-250r/min
Max. Diameter of Unwinding
700mm
Max. Diameter of Winding
700mm
Host Power
17.3kw (Not including UV system)
Host Power Supply
380V/AC Three-phase, 50/60Hz, 50A, 17.3KVA
Overall Dimensions
6800×1600×1400mm
Weight
6000kg/6 colors
Note:
1. Machine speed varies with the change of the printing length.
2. The appearance of the machine and the production process are subject to change without notice. 
Details
Optimized ink roll configuration and speed are employed, which prevents ink streak and ghosting, thus improving printing effect. Ink supply changes proportionally with the machine speed so as to achieve better printing result. Machine faults are displayed on the computer screen, so users can see the trouble location directly, which accelerates repairing. In addition, our product can complete unwinding, varnishing, die cutting, waste discharging, winding and many other processes.
The SUPER-320 intermittent letterpress high speed label printing machine can be used to print adhesive labels for packaging boxes, bottles or bags in cosmetic, food and many other industries. It uses cast iron as the raw material which has been chrome plated to resist rust, so it has a long lifespan. The carefully chosen gear, roller and other accessories help to produce accurate printing effect. The equipped UV drying device enables the ink to solidify quickly, thus solving the problem of easy falling off of the ink on the finished product. With the size of 6800×1600×1400mm, this equipment can print on materials with the maximum width of 310mm and the maximum thickness of 0.3mm.
Optional Devices
Hob-die-cutting Device (Magnetic drum)
UV Drying Device (Width of the light box is within 140mm)

UV Varnishing Device
CCD Camera
We are a professional 8-color intermittent letterpress high speed label printing machine manufacturer in China. In addition to letterpress label printing machine, we also offer Flexo printing machine, offset printing machine, label inspection machine, and more.
ZONTEN, as a leading label printing machine manufacturer in China, offers label printing and converting solutions in addition to a complete lineup of label production equipment. Our label printing machinery and label converting machines are widely used for the production of daily chemical labels, wine labels, alcohol labels, beauty and personal care labels, food labels, flexible packaging, etc. With over two decades of experience in the label printing industry, we know how important innovations and new technologies are for label & narrow web printing. Therefore, we design and produce our own label printing machines, and continuously develop new functions to further improve machine's efficiency. What's more, we offer training for your production staff and our highly qualified after-sales service team is always ready to serve you. We are continually innovating and improving in order to reach and maintain the highest quality of service available for each customer, which is realized by keeping in touch with our international customers to share the latest label news and techniques. We pride ourselves on our excellent level of customer service, as well as our high quality printing machinery, die cutter, slitting machines, label inspection machine, etc., so whatever you need from us please get in touch.