6 Color Flexographic Printing Machine with Three Die Cutting Station, LRY-330/450
The 6 color flexographic printing machine with three die cutting station is suitable for the printing of coated paper stickers, aluminum foil stickers, thermal paper, as well as PE, PP and PVC stickers. The resolution is more than 150LPI. This equipment can complete unwinding, printing, varnishing, laminating, die cutting, exhausting and winding. Due to its high quality and low price, our product has enjoyed a good reputation since its first launch eight years ago. The export volume remains at 10 sets per month. With wide applications, fast printing speed, high economic benefits, non-pollution and other characteristics, it is the ideal equipment for various printing houses to print bills, card paper, and top grade sticker labels.
Video Show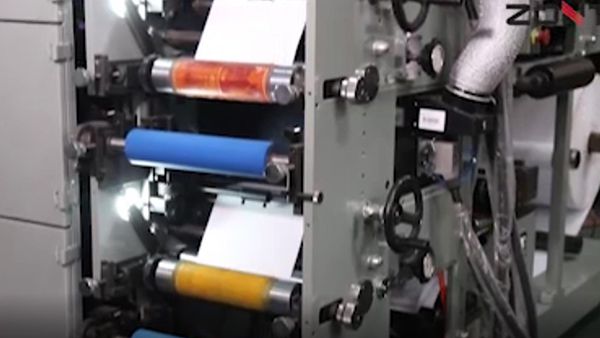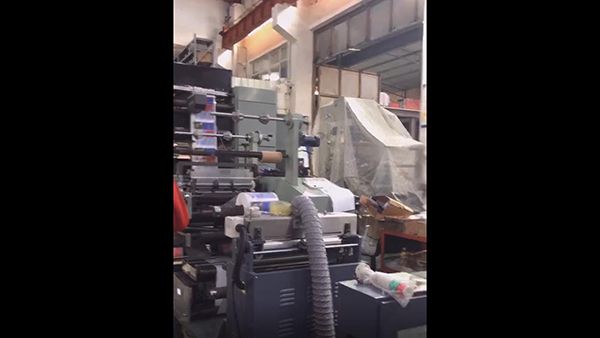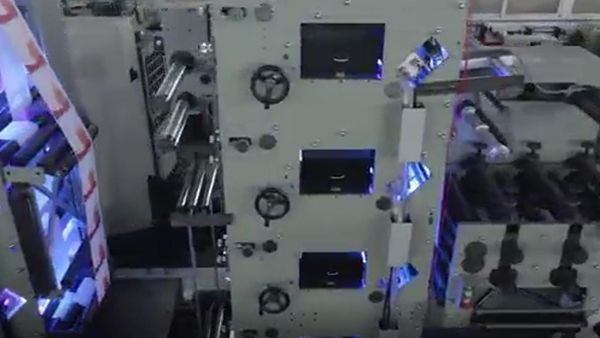 Specifications
Model
Max. Width of the Material
330mm
450mm
Max. Printing Width
320mm
440mm
Printing Length Range
180mm-380mm/min
180mm-380mm/min
Printing Color
2-6
2-6
Thickness of the Printed Material
0.1-0.3mm
0.1-0.3mm
Machine Speed
10m-80m/min
10m-80m/min
Max. Diameter of Unwinding
650mm
650mm
Max. Diameter of Winding
650mm
650mm
Number of Die Cutting Station
3
3
Host Power
2.2kw
2.2kw
Host Power Supply
380V/AC 3 phase 50Hz
380V/AC 3 phase
Overall Dimensions
2420×1020×2740
2420×1020×2740
Weight
2500kg/5 corlors
3000kg/5 corlors
Note: Appearance and process are subject to change without notice.
The main motor adopts a frequency conversion stepless speed control device imported from Japan. The device can reduce mechanical shock and power consumption, so the life of the machine is extended and the cost is reduced. More stable and reliable unwinding and winding are ensured by the magnetic powder brake and clutch. Customers can also use Japanese Mitsubishi auto tension controller.
Our product employs the anilox roll which has abrasion resistance, corrosion resistance and a long lifespan. This is favorable for reducing the times to replace the roll and for improving printing efficiency. When printing finishes, the roll can automatically separate itself from the printed products and keep a low-speed rotation to prevent the drying of the ink on the roll surface.
The printing units adopt 360° circular register regulation. Each printing unit, responsible for the printing of one color, can be detached and used independently. It is equipped with a set of infrared drying device. The device enables the ink to condense quickly, avoiding ink blurring, shedding and other phenomena. Customers can also choose to install an ultraviolet drying device. They can specify the color of the equipment as well.
Details
Optional Devices
Cutting Platform
CCD Camera
Cold Foil Stamping Device

UV Drying Unit
Stripping Device
The LRY-330/450 flexographic printing machine stacks multiple printing units to realize the printing with two to six colors. The printed products have stable color and can be die cut directly. The die cutting machine adopts three die cutting stations with support rollers. Combined die cutting can be achieved and the cutting is accurate. With the printing speed of 10 to 80 meters per minute, this equipment can print on materials with the thickness of 0.1 to 0.3 mm. The LRY330 and LRY450 can print for materials with the maximum width of 330mm and 450mm respectively. Customers can choose the appropriate product according to the actual printing needs.
As a China-based 6 color Flexographic printing machine with three die cutting station manufacturer, our company also supplies stacked Flexographic printing machine, automatic label inspecting machine, 8-color intermittent letterpress high speed label printing machine, and more.
ZONTEN, as a leading label printing machine manufacturer in China, offers label printing and converting solutions in addition to a complete lineup of label production equipment. Our label printing machinery and label converting machines are widely used for the production of daily chemical labels, wine labels, alcohol labels, beauty and personal care labels, food labels, flexible packaging, etc. With over two decades of experience in the label printing industry, we know how important innovations and new technologies are for label & narrow web printing. Therefore, we design and produce our own label printing machines, and continuously develop new functions to further improve machine's efficiency. What's more, we offer training for your production staff and our highly qualified after-sales service team is always ready to serve you. We are continually innovating and improving in order to reach and maintain the highest quality of service available for each customer, which is realized by keeping in touch with our international customers to share the latest label news and techniques. We pride ourselves on our excellent level of customer service, as well as our high quality printing machinery, die cutter, slitting machines, label inspection machine, etc., so whatever you need from us please get in touch.